Gooseneck Series
Stability and durability are what make up a CJay gooseneck trailer. These trailers are available in a variety of sizes. From 20 ft. long up to 40 ft. long in tandem or triple axle configurations. For ease of towing and maneuverability, nothing compares to a CJay gooseneck trailer. The material used in the trailer manufacturing process is carefully selected to match the GVWR of each cargo trailer. With a large cargo carrying area for a wide variety of items, towing large items becomes easier when you have a CJay enclosed gooseneck trailer.
Trailer Features and Options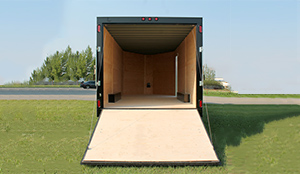 Spring Assist Rear
Ramp Door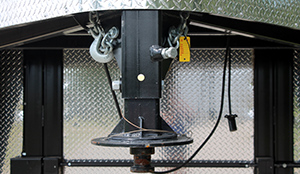 Kingpin Coupler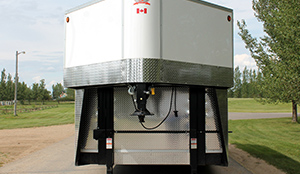 V-nose Front
Double Front Jacks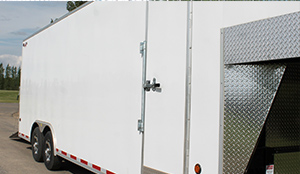 Side Walk in Door with Bar Lock
Tred Extreme Floor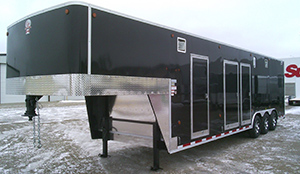 Customized Triple Axle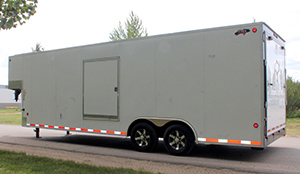 Large Side Escape Door
Get quality you can depend on. Every aspect of the trailer manufacturing process is meticulously completed with the customer in mind. CJay uses only torsion rubber ride axles manufactured in North America. These axles eliminate springs, hangers, U-bolts, shackle straps and bolts that are potential wear items when using standard leaf spring suspensions. The MIG welding technique is used on all structural areas of the enclosed gooseneck trailer to ensure maximum strength in each weld. Our material prevents the trailer body from twisting and bending through its day-to-day use.
Your gooseneck trailer can be customized to suit your needs. With a double jack front, rear ramp door, or a side door to make transport and loading and unloading easier all around. CJay trailers are designed to work as long and as hard as our customers. Our process and dedication to detail are what gives each gooseneck trailer the longevity and durability that makes up the name of CJay Trailers.
Gooseneck Trailer Specs
| Model | Interior Width | Interior Length | Rear Door Height | Rear Door Width | Interior Height | Axles | Brakes | Tires | Jack | Coupler | Weight |
| --- | --- | --- | --- | --- | --- | --- | --- | --- | --- | --- | --- |
| FX9-820-78-T60 | 95 1/2″ | 238″ Plus 8′ GN | 79″ | 88″ | 83″ | Tandem 6000 lbs Rubber Torsion | Electric | ST235/80R16 | 10,000 lbs | 2 5/16″ | 5000 lbs |
| FX9-820-78-T70 | 95 1/2″ | 238″ Plus 8′ GN | 79″ | 88″ | 83″ | Tandem 7000 lbs Rubber Torsion | Electric | ST235/80R16 | 10,000 lbs | 2 5/16″ | 5100 lbs |
| FX9-824-78-T70 | 95 1/2″ | 286″ Plus 8′ GN | 79″ | 88″ | 83″ | Tandem 7000 lbs Rubber Torsion | Electric | ST235/80R16 | 10,000 lbs | 2 5/16″ | 5500 lbs |
| FX9-824-78-T70 | 95 1/2″ | 286″ Plus 8′ GN | 79″ | 88″ | 83″ | Triple 7000 lbs Rubber Torsion | Electric | ST235/80R16 | 2 of 10,000 lbs | Kingpin Gooseneck | 6000 lbs |