Recreational Series
Sleds, bikes, quads or side by sides, CJay's enclosed ATV trailers can haul them all. When what you carry matters trust CJay Trailers. For the fun to begin you need to get to the trails, mountains, or open fields and these ATV trailers can carry it all. These units allow everything to be stored safely and is ready to hit the road when you are! Whether you're looking for a snowmobile trailer in the winter, a quad trailer in the summer, or a car hauler, these enclosed trailers are built to be used in all conditions, all year long.
Trailer Features and Options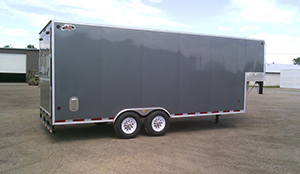 Gooseneck Sled Trailer
Car Hauler with Side Escape Door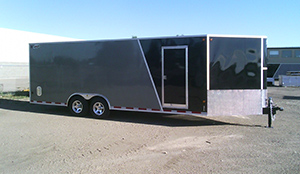 Two Tone Colour Scheme on Toy Box Trailer
RV Style Tinted Window
Two Tone Colour Scheme on Sled Trailer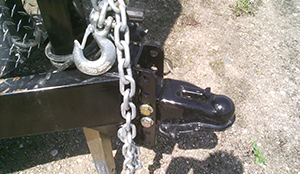 Adjustable Coupler and Drop Foot Jack
Drive Over Fenders, Tred Extreme Floor, and White Board Walls
Drive in and Drive out Ramp Doors
These enclosed trailers are built to get you where you need to be. Every trailer we build is optimized to haul what you need with industry-leading strength and weight capacities. The structure of the enclosure eliminates twisting and bending in the frame. Manufacturing quality trailers is what we pride ourselves in.
Being an enclosed trailer manufacturer, we're able to build the right trailer for you. With customizable options, you're bound to get everything you need from a CJay ATV trailer. A side escape door can be added to allow for easier access once the trailer is loaded. Our durable ramp doors can also be added to make loading and unloading your snowmobile or ATV easier. Not to mention the quality material used so your trailer can handle being loaded and unloaded numerous times. Look through our trailer features and specs and contact us for more information.
Recreational Trailer Specs
Model
Interior Width
Interior Length
Rear Door Height
Rear Door Width
Interior Height
Axles
Brakes
Tires
Jack
Coupler
Weight
FX9-812-72-T35
95 1/2″
142″ Plus
5′ V-nose
74″
86 1/4″
77″
Tandem 3500 lbs Rubber Torsion
Electric
ST205/75R15
7000 lbs
2 5/16″
2250 lbs
FX9-823-72-T35
95 1/2″
274″ Plus
5′ V-nose
74″
86 1/4″
77″
Tandem 3500 lbs Rubber Torsion
Electric
ST205/75R15
7000 lbs
2 5/16″
3850 lbs
FX9-823-78-T60
95 1/2″
274″ Plus
5′ V-nose
82″
88″
83″
Tandem 6000 lbs Rubber Torsion
Electric
ST235/80R16
7000 lbs
2 5/16″
4800 lbs
FX9-824-78-T60
95 1/2″
292″
79″
88″
83″
Tandem 6000 lbs Rubber Torsion
Electric
ST235/80R16
7000 lbs
2 5/16″
4100 lbs